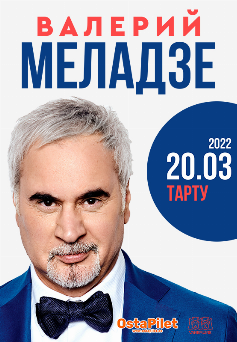 Valeri Meladze / Валерий Меладзе
Vanemuise Kontserdimaja Tartu , Eesti , Tartumaa , Tartu , Vanemuise 6
23.25 - 49.25
Buy Ticket
Hea klient!
Seoses kontserdikeelu kehtestamisega Eesti valitsuse poolt märtsis 2021 lükatakse edasi Valery Meladze turnee (25.03.2021 Tartus, 26.03.2021 Tallinnas ja 27.03.2021 Jõhvis): 20.03.2022 Tartus, 21.03.2022 Jõhvis ja 24.03.2022 Tallinnas. Varem ostetud piletid kehtivad uueks kuupäevaks ja neid ei pea vahetama.
Read more
Event
Date and time
Location
Ticket price
Valeri Meladze / Валерий Меладзе
Su 20.03.2022 19:00
Vanemuise Kontserdimaja, Tartu
23.25 - 49.25
Buy Ticket
The online shop service fee in the amount of 0.50 € has been added for each ticket.
Soodustus kõigile piletitele 35% (hinnad sisaldavad allahindlust)
Vanemuise Kontserdimaja
Eesti , Tartumaa , Tartu , Vanemuise 6
Tartu, Estonia