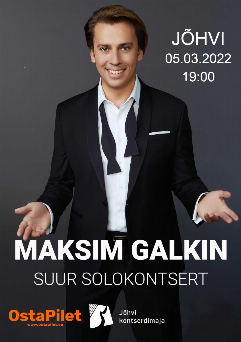 Maksim Galkin suure soolokontserdiga
Jõhvi kontserdimaja Jõhvi , Pargi tn. 40, Jõhvi
29.50 - 76.50
Buy Ticket
6+
05.03.2022. a esineb Johvi kontserdimajas suure soolokontserdiga humorist, saatejuht, showman, laulja. Temale kuuluvaid tiitleid ja staatuseid võib üles lugeda lõpmatuseni, kuid eelkõige on ta artist suure esitähega. Särav, karismaatiline ja alati ajakohane Maksim Galkin.
Tema andekuse maagia ei jäta kedagi ükskõikseks. Juba aastakümneid kogub ta kokku täissaale nii kodu- kui ka välismaal.
Read more
Event
Date and time
Location
Ticket price
Maksim Galkin suure soolokontserdiga
Sa 05.03.2022 19:00
Jõhvi kontserdimaja, Jõhvi
29.50 - 76.50
Buy Ticket
The online shop service fee in the amount of 0.50 € has been added for each ticket.
Vanusepiirang 6+
Sissepääs alates 18:00
Kestus 2h
Jõhvi kontserdimaja
Pargi tn. 40, Jõhvi
Jõhvi, Estonia