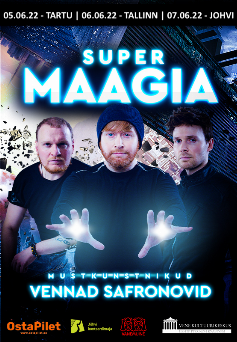 Mustkunstnikud Vennad Safronovid / SUPER MAAGIA
Vene Kultuurikeskus Tallinn , Mere pst 5, 10111 Tallinn
16.50 - 60.50
Buy Ticket
VENAD SAFRONOVID. SUPER MAAGIA
05.06.2022 TARTU, Vanemuise kontserdimaja
06.06.2022 TALLINN , Vene Kultuurikeskus
07.06.2022 JOHVI , Johvi kontserdimaja
---
Ole valmis olema tunnistajaks suurepärase illusiooni hämmastavatele toimingutele: levitatsioon, mõtete lugemine, teleportatsioon ... Täna!
See hingemattev vaatepilt kogu perele koos tohutute LED - ekraanide, kaasaegsete valgustusseadmete ja ainulaadsete eriefektidega sukeldub teid maagia ja maagia atmosfääri!
Read more
Event
Date and time
Location
Ticket price
Mustkunstnikud Vennad Safronovid / SUPER MAAGIA
Mo 06.06.2022 19:00
Vene Kultuurikeskus, Tallinn
16.50 - 60.50
Buy Ticket
The online shop service fee in the amount of 0.50 € has been added for each ticket.
Hinnad sisaldavad allahindlusi 20%, pikkus 90 min, vahaaeg ei ole.
Alla 5-aastased lapsed on lubatud ilma piletita, kui nad istuvad saatja süles.
Vene Kultuurikeskus
Mere pst 5, 10111 Tallinn
Tallinn, Estonia