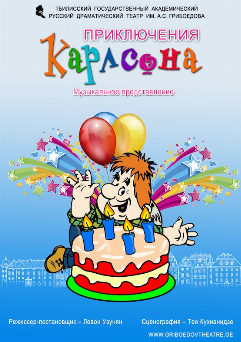 Karlssoni seiklused (lasteetendus)
Jõhvi kontserdimaja Jõhvi , Pargi tn. 40, Jõhvi
16.50 - 36.50
Buy Ticket
Lasteetendus «Karlssoni seiklused» on muusikalavastus ühes vaatuses Astrid Lindgreni jutustuse ainetel.
Näidend põhineb Astrid Lindgreni armastatud triloogia viimasel osal Väikevennast ja Karlssonist, kes elab katusel. See on täiesti uus lugu, milles Majasokk kohtab oma tõelist armastust, sõbrad püüavad vargad kinni ja Karlsson saab suure auhinna. Sõpru ootavad ees erutavad ja lustakad seiklused, mille käigus nad veenduvad taaskord, et tõeline sõprus on suur õnn.
Read more
Event
Date and time
Location
Ticket price
Karlssoni seiklused (lasteetendus)
Th 02.03.2023 13:00
Jõhvi kontserdimaja, Jõhvi
16.50 - 36.50
Buy Ticket
The online shop service fee in the amount of 0.50 € has been added for each ticket.
Ainult aasta lõpuni 20% soodustust. Hinnad sisaldavad allahindlusi.
Uksed avatakse kell 12.00
pikkus 65 min, vahaaeg ei ole
Alla 3-aastased lapsed istuvad käed rüpes, sissepääs tasuta.
Jõhvi kontserdimaja
Pargi tn. 40, Jõhvi
Jõhvi, Estonia