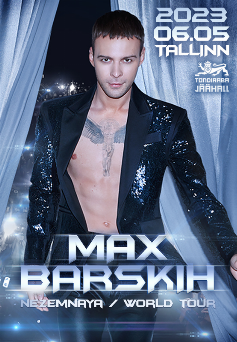 Макс Барских / Max Barskih. NEZEMNAYA / World Tour
Tondiraba Tallinn , Varraku, 14
20.40 - 46.40
Buy Ticket
Lugupeetud külalised,
Seoses raske poliitilise olukorraga maailmas ja sõjaga Ukrainas ei saa artist plaanitud kontserdil esineda. Max Barskikh esineb väga hea meelega oma kuulajatele jaoks rahulikumal ajal - palume suhtuda antud olukorda mõistvalt - kontserdi uus kuupäev on 06.05.2023. Suur palve toetada Ukrainat sel raskel hetkel ja mitte tagastada kontserdile pileteid.
Read more
Event
Date and time
Location
Ticket price
Макс Барских / Max Barskih. NEZEMNAYA / World Tour
Sa 06.05.2023 19:00
Tondiraba, Tallinn
20.40 - 46.40
Buy Ticket
The online shop service fee in the amount of 0.50 € has been added for each ticket.
Kõikide Tondiraba jäähallis toimuvate sündmuste hinnad sisaldavad teenustasu 0.90€/ pilet.
Tondiraba
Varraku, 14
Tallinn, Estonia