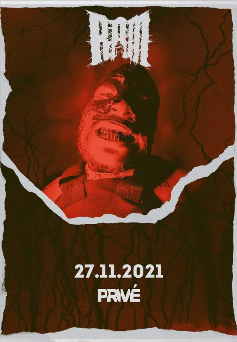 RAM aka Грязный Рамирес (RUS)
Privè Tallinn , Harju tn. 6
16.50 - 39.50
Buy Ticket
16+
Hea klient!

Seoses kultuuri sündmustele seatud piirangutega lükkub edasi 29.04.21 toimuma pidanud RAM kontsert (algselt 25.04.2020, edasilükatud 25.10.2020, Prive)
UUS ÜRITUSE KUUPÄEV ON 27. NOVEMBER 2021
UUS ALBUM ja kõik parimad hitid.
Uuel kuupäeval kehtivad juba ostetud piletid.

Juhul kui teile uus kuupäev ei sobi, siis andke sellest teada aadressil tagasiost@piletilevi.ee, kirja sisus märkida enda tellimusenumber.
Tavapileti omanikud saavad enda piletid tagastada Piletilevi müügipunktides, v.a Circle-K teenindusjaamades ning Viru Keskuses asuv müügipunkt.
Pileteid saab tagastada kuni 9.05.2021
Olgem üheskoos mõistvad kogu kultuuri- ja meelelahutussektori suhtes, andke veidi aega ning edasilükatud ürituste puhul võimalusel ärge pileteid tagastage.
Üritus on vene keeles
Read more
Event
Date and time
Location
Ticket price
RAM aka Грязный Рамирес (RUS)
Sa 27.11.2021 20:00
Privè, Tallinn
16.50 - 39.50
Buy Ticket
The online shop service fee in the amount of 0.50 € has been added for each ticket.
FAN-билет: 1) Приоритетный вход
2) Доступ к танцполу
3) Афиша А4 с автографом артиста
MEET-N-GREET: 1) Ранний вход без очереди (перед ФАН билетами);
2) Личная встреча с артистом, возможность сфотографироваться и пообщаться с выступающими перед концертом;
3) Афиша А4 с автографом артиста;
4) Доступ к танцполу;
Продолжительность мероприятия 3 часа.
Двери для Meet n Greet в 18:30
Фото- и видеокамера - запрещены.
Рекомендуемый возраст для посещения - от 14 лет
Privè
Harju tn. 6
Tallinn, Estonia