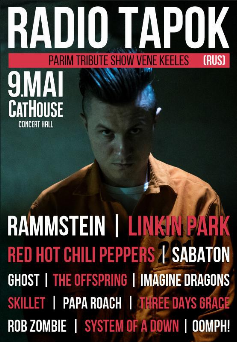 Radio Tapok (RUS) - Parim tribute show vene keeles
CatHouse Nightclub & Concert Hall Tallinn , Tartu maantee 17
20.50 - 100.50
Buy Ticket
Hea piletiostja!
Seoses Eriolukorra kehtestamisega Eesti Vabariigis kontsert lükkub edasi.

UUS KUUPÄEV 30.04.2022
KONTSERT TOIMUB 100%!

Juba ostetud piletid jäävad kehtima uuele kuupäevale. Vahetada ei ole vaja.

Piletite tagastamise- või vahetamisega seotud küsimusi hakatakse arutama pärast ERIOLUKORRA lõppemist ning massikultuuriürituste läbiviimiseks ametliku loa saamist.
Lisaküsimuste korral palun kirjutada otse korraldajale:
Kultuuriinfo OÜ

Olgem üheskoos mõistvad kogu kultuuri- ja meelelahutussektori suhtes, andke veidi aega ning edasilükatud ürituste puhul võimalusel ärge pileteid tagastage.
Read more
Event
Date and time
Location
Ticket price
Radio Tapok (RUS) - Parim tribute show vene keeles
Fr 22.04.2022 19:00
CatHouse Nightclub & Concert Hall, Tallinn
20.50 - 100.50
Buy Ticket
The online shop service fee in the amount of 0.50 € has been added for each ticket.
MEET N GREET 100 - sissepääs 16:00 (Palun ärge hilinege!)
CatHouse Nightclub & Concert Hall
Tartu maantee 17
Tallinn, Estonia