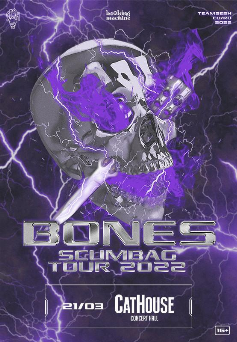 BONES (USA)
CatHouse Nightclub & Concert Hall Tallinn , Tartu maantee 17
25.50 - 32.50
Buy Ticket
16+
Hea piletiostja!
Seoses Eriolukorra kehtestamisega Eesti Vabariigis kontsert lükkub edasi.

UUS KUUPÄEV 21.03.2022

Juba ostetud piletid jäävad kehtima uuele kuupäevale. Vahetada ei ole vaja.

Piletite tagastamise- või vahetamisega seotud küsimusi hakatakse arutama pärast ERIOLUKORRA lõppemist ning massikultuuriürituste läbiviimiseks ametliku loa saamist.
Lisaküsimuste korral palun kirjutada otse korraldajale:
Kultuuriinfo OÜ

Olgem üheskoos mõistvad kogu kultuuri- ja meelelahutussektori suhtes, andke veidi aega ning edasilükatud ürituste puhul võimalusel ärge pileteid tagastage.


Üritus on inglise keeles
Booking Machine presents:
Bones comes back to Europe and UK.
This May is going to be cold and gray.
Bones — the mystical figure of hip-hop performs in 23 cities of the Scumbag tour.
TeamSESH, it's your time!
Read more
Event
Date and time
Location
Ticket price
BONES (USA)
Mo 21.03.2022 20:30
CatHouse Nightclub & Concert Hall, Tallinn
25.50 - 32.50
Buy Ticket
The online shop service fee in the amount of 0.50 € has been added for each ticket.
For all questions regarding the status of the event or the refund of tickets, please contact the organizer of the event directly (contact information available at the event page on the right).
Kiirematele pilet 25€
VIP-pilet 32€ (VANUSEPIIRANG 18+!)
VIP-pilet sisaldab sissepääsu rõdule teisel korrusel, eraldi baari ja suitsuruumi.
Üritusel kehtib vanusepiirang alates 16. eluaastast!
Sissepääs avatakse 19:00
Ürituse kestus 3h
Filmimine/pildistamine ei ole lubatud!
CatHouse Nightclub & Concert Hall
Tartu maantee 17
Tallinn, Estonia