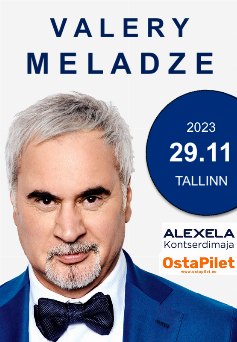 Valeri Meladze / Валерий Меладзе
Alexela Kontserdimaja Tallinn , Estonia pst 9, Tallinn
51.40 - 101.40
Buy Ticket
Valeri Meladze Tallinnas kavaga «Vaba lend» !
Tallinnas esineb üks armastatumaid ja populaarsemaid lauljaid, popstaar - Valeri Meladze. Kuulajatele tutvustab oma kava «Vaba lend» tõeline mees – romantiline, temperamentne ja intelligentne. 07.
Read more
Event
Date and time
Location
Ticket price
Valeri Meladze / Валерий Меладзе
We 29.11.2023 19:00
Alexela Kontserdimaja, Tallinn
51.40 - 101.40
Buy Ticket
The online shop service fee in the amount of 0.50 € has been added for each ticket.
Alexela Kontserdimaja
Estonia pst 9, Tallinn
Tallinn, Estonia