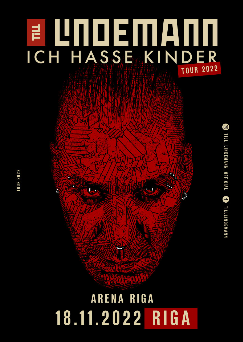 LINDEMANN. ICH HASSE KINDER
Arena Riga Riga , Skanstes iela 21, Vidzemes priekšpilsēta, Rīga, LV-1013, Latvia
60.70 - 140.70
Buy Ticket
18+
Parter tickets until February 14 with the new SPECIAL price - 79.70 eur!
Dear customers,
Due to the ongoing pandemic situation and restrictions on the organization of mass events in JANUARY in accordance with the decisions of the Government of the Republic of Latvia, we are forced to change the date of the concert on January 23, 2022 in Riga. As part of the ICH HASSE KINDER 2022 tour, a new concert date is 11/18/2022. All previously purchased tickets are valid
Thanks for understanding.
TILL LINDEMANN - SOLO CONCERT IN RIGA!
TILL LINDEMANN - Industrial metal genius, frontman and voice of Rammstein, three-time «ECHO Award» winner will perform in Riga with his band for the first time in a solo concert as part of the European tour 21/22 "ICH HASSE KINDER".
Till LINDEMANN is not just a talented musician, Till is a phenomenon, his concerts are as impressive as a volcanic eruption, when you are in the epicenter and at the same time singing with maximum power "Steh Auf !!"
Till has millions of fans around the world, the artist has incredible charisma, artistry and sometimes frightening energy and voice power.
In "Ich Hasse Kinder" you will see and hear what TILL LINDEMANN is famous for all over the world, more metal, old and new songs, more videos, special effects and you feel the incredible energy of one of the best frontmen in rock.
OFFICIAL WEBSITE TILL LINDEMANN TOUR 2022
Event
Date and time
Location
Ticket price
LINDEMANN. ICH HASSE KINDER
Fr 18.11.2022 20:00
Arena Riga, Riga
60.70 - 140.70
Buy Ticket
The online shop service fee in the amount of 0.50 € has been added for each ticket.
Service fee shall be set at EUR 1.20 (one point twenty euros) (VAT included), for each ticket sold
Before purchasing tickets, please pay attention to the national rules regarding Covid-19 restrictions on events and their participants. When making a purchase, the consumer agrees to abide by the national epidemiological rules regarding the attendance of the event.
The ticket distributor only acts as an intermediary. If the event does not take place or is postponed, the event organizer, not the ticket distributor, assumes responsibility for the refund of the tickets purchased.
NB! 18+
Arena Riga
Skanstes iela 21, Vidzemes priekšpilsēta, Rīga, LV-1013, Latvia
Riga, Latvia